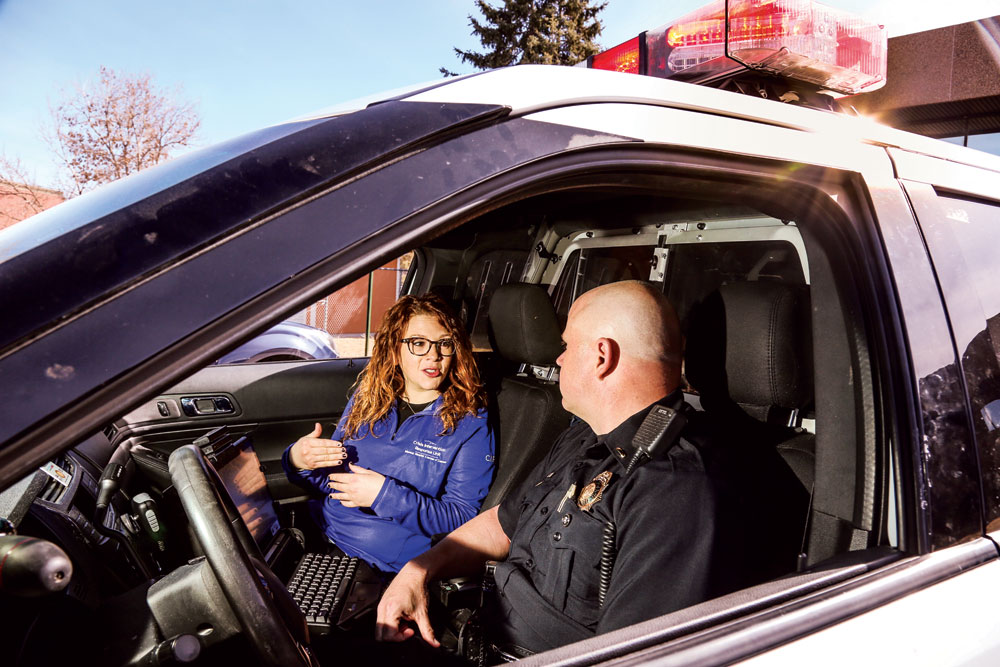 There are four ways that social workers and other mental health professionals have been helping police officers/departments for a long time.  [Ed: Part 1 can be found here.] This article will explore two methods.
Crisis Intervention Training (CIT)
Crisis Intervention Team (CIT) training, developed in Memphis TN, provides a model of specialized law enforcement expertise. Volunteer officers, based in the general patrol division, work in cooperation with the mental health system, individuals in crises, and families. Trained CIT Police officers carry on the normal duties of law enforcement, but switch to a specialist role when a potential mental health-related crisis is identified.

CIT focuses on de-escalation strategies, and redirecting the individual from the criminal justice system to the mental health care system. In turn, the mental health care system assumes "custody" of the individual, and provides directed and non-restrictive accessibility to a full range of health care and social service options.
How Does CIT Work?
Selected/volunteer police officers and other first responders take part in a 5-day, 40-hour training program. The program includes mental health and substance use experts, legal experts, consumer/family advocates, and experienced CIT officers. Once trained CIT officers are in place, high-risk crisis calls are directed to an on-duty CIT officer.

The CIT officer leads a police-based crisis intervention of generalist officers. The CIT officer, employing a de-escalation intervention strategy, may access ACI crisis services, or transport the individual to a partnered hospital emergency room.

The mental health system assumes "custody" and provides a "police-friendly" efficient rturnaround time for the officer to return to normal patrol duties.
What Is "More Than Just Training"?
Training is more than a "one-shot" deal. Several times a year, officers meet for debriefing meetings and in-service trainings to problem solve tactical issues, discuss different experiences and scenarios they have encountered, and participate in advanced training. This allows officers a chance to reinforce and sharpen their skills, address new problems, and build cohesiveness.
[From the Missouri CIT Council. This website contains considerably more information than can be published here.]
Critical Incident Stress Debriefing (CISD)
"Critical Incident Stress Debriefing (CISD) is a specific, 7-phase, small group, supportive crisis intervention process. It is just one of the many crisis intervention techniques which are included under the umbrella of a Critical Incident Stress Management (CISM) program. The CISD process does not constitute any form of psychotherapy and it should never be utilized as a substitute for psychotherapy. It is simply a supportive, crisis-focused discussion of a traumatic event (which is frequently called a "critical incident"). The Critical Incident Stress Debriefing was developed exclusively for small, homogeneous groups who have encountered a powerful traumatic event. It aims at reduction of distress and a restoration of group cohesion and unit performance.
"A Critical Incident Stress Debriefing can best be described as a psycho-educational small group process. In other words, it is a structured group story-telling process combined with practical information to normalize group member reactions to a critical incident and facilitate their recovery. A CISD is only used in the aftermath of a significant traumatic event that has generated strong reactions in the personnel from a particular homogeneous group. The selection of a CISD as a crisis intervention tool means that a traumatic event has occurred and the group members' usual coping methods have been overwhelmed and the personnel are exhibiting signs of considerable distress, impairment or dysfunction."  [From Jeffrey T. Mitchell, PhD at the University of Maryland.] 
CISD can be utilized with police, fire, and EMS personnel whenever there is a serious injury or death to a first responder.  In some departments this is mandatory.  CISD has been shown to "derail" the development of Post-Traumatic Stress Disorder.
.
.

— Warren Lind is a retired licensed clinical social worker and a full-time security officer who writes extensively about crime, survival, and self-defense. He a long-time CCW holder and is a member of too many pro-2A organizations to list.