Being a pediatrician, I am always on the look-out for new products related to firearms and children. So, it was with great interest that I recently ordered three new books for children, which pertain to firearms and firearm safety.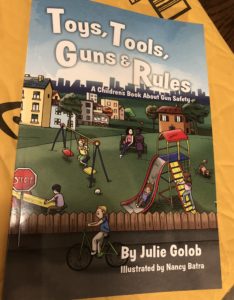 The newest of the three is a just-released book by Julie Golob, entitled, Toys, Tools, Guns & Rules. It is available through Amazon. This book, aimed at children as young as 3, is beautifully and brightly illustrated by Nancy Batra. The colorful pages, with large type, are sure to draw and hold the attention of even the youngest lap squirmers. The pages are set up so that children can point out various tools and toys as the parent reads the story. The book provides questions to engage the young listener, and allow the parent to make important safety points along the way.
The book includes a Parent's Guide in the back, and there also is a web page where parents can download coloring pages from the book, to further engage their little learners.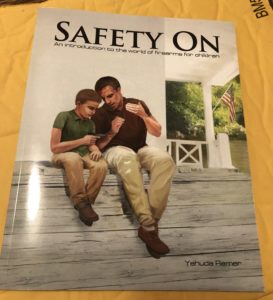 The second children's book, also available through Amazon, is by Yehuda Remer. It is titled Safety On: An introduction to the world of firearms for children, and is aimed at somewhat older children than the age group for the previous book. This book would probably be suitable for 6 to 8 or 9 year olds. But that would depend on the maturity of the particular child. Like the previous book, parents should read it WITH the child, so that the story can encourage ongoing conversations about safety and firearms. This book centers on a boy named Kyle who wants to grow up to be just like his dad, and learn to handle firearms safely, just like his dad. The book does a good job of reinforcing safe gun handling and storage habits. And it presents the information in simple language that children can understand. Safety On is also available as a coloring book.
[Ed: We also reviewed Yehuda Remer's book Safety On in April, just as gladly.]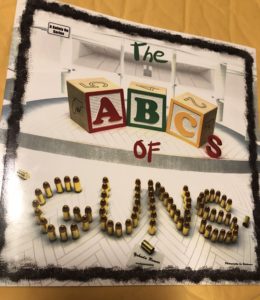 The third book is also by Yehuda Remer. It is called The ABC's of Guns, and is likewise available at Amazon. Although this is an alphabet book, it really doesn't seem to be designed for the pre-reader set, who would normally be engaged by an ABC book. The type is large, and the illustrations/photographs are realistic, but the terms that were chosen seem to be a bit advanced. Still, it's a fun little book, and might be a useful tool for certain liberal journalists who wouldn't know an Upper receiver (letter U), from a Quad rail (letter Q). I give it an enthusiastic thumbs up.

—"Dr. LateBloomer" is the pen name of a female general pediatrician (MD, MPH, FAAP) who enjoys competitive shooting sports, including IDPA, USPSA and 3-Gun.  Evil semi-automatic firearms are her favorites.