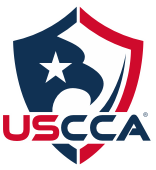 We are pleased to announce that DRGO is partnering with the United States Concealed Carry Association, another organization committed to upholding the values and principles of America's founding fathers.
Since its founding in 2003, the USCCA has helped responsibly armed Americans—like you—with education, training, and insurance-backed membership.
A membership with the USCCA will give you the peace of mind to defend yourself and your loved ones with:
Up to $2,250,000 in up-front Self-Defense SHIELD protection – Pay your bail, secure a pro-2nd Amendment attorney, and get your legal bases covered if you're ever forced to act in self-defense.
All Legal Weapons Covered – Guns, knives, and hand-to-hand combat, they cover it all.
Critical Response Team Access – They will be your second phone call after 9-1-1 to walk you through the aftermath of a self-defense incident.
Training & Education – Access to 1,400+ certified trainers nationwide, 100's of exclusive training videos, articles, your free subscription to Concealed Carry Magazine.
And much, much more.
And because the USCCA believes in the mission of DRGO, they're offering our instructors a 15% discount on any USCCA Membership.
Experience what complete peace of mind feels like. Unlock the legal & financial protection of your USCCA Membership today, and save 15% with your exclusive DRGO discount.
The link to activate The Protection Of USCCA Membership and save 15% will be in your DRGO membership confirmation email.
Join DRGO and receive your USCCA discount.